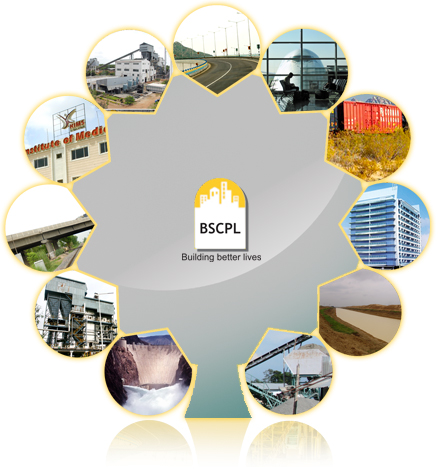 BSCPL Infrastructure Ltd
(formerly B. Seenaiah & Co Projects Ltd.) is a Hyderabad based conglomerate, which has business interest in various types of infrastructure areas like roads, airports works, bridges, building construction, real estate projects, irrigation projects and railway freight corridor works.
BSCPL
was promoted by well educated and qualified entrepreneurs over three and a half decades as a Partnership Firm. The Company is backed by competent and highly motivated team of experts, with an attitude of continuous innovation. Employing state-of-the-art technologies combined with high degree of mechanization has enabled BSCPL to set new benchmarks in the industry.
Though not strictly construed as BSCPL Group, Mr. Krishnaiah, the Core Promoter, has forayed into different business domains, such as Crushing and Quarry Plants, Health Care Services, Education and Nursing Colleges, Power and Steel Sector, Real Estate Development, BT Cotton Seeds.
BSCPL and its Promoters own Crushing and Quarrying Plants, which supply metal for laying roads.
The Krishna Institute of Medical Sciences Ltd., popularly known as KIMS, is a well established Multi Super Specialty Hospital in Hyderabad having over 1000 bedded capacity. It also has affiliated schooling and nursing colleges.
Bollineni Casting and Steel Limited is another Company, which has a 6 MW Non-conventional Power Plant and a 3500 tons capacity Casting Plant in Nellore, Andhra Pradesh.
Bollineni Developers Limited has developed a prestigious Real Estate Project on a 5-acre land in Prime Locality of Hyderabad near Hi Tech City, housing about 32 high-end villas and 35 very spacious apartments – as a Gated Community Model. The Company has also accumulated 'land bank' near Chennai, Vizag and Puttaparthi.
BSCPL has spread its operations into Afghanisthan, Dubai and Nepal by having subsidiary or JV companies at respective countries.